Buying a Home in Houston, TX
Finding and purchasing a home that will meet your needs is a significant and often stressful time. Our goal is to make this transition as smooth as possible. We are experts in the area, and once we learn what it is that you're looking for, finding your dream home is simple.
Before you start looking for a home you should ask yourself a few questions:
Where do you want to live? Are there particular neighborhoods or communities that you like?
What kind of house would you like (need)? Are you looking for a particular style? How many bedrooms and bathrooms do you want?
Is a home office a necessity? Do you need a bonus room or flex-room?
Do you entertain often? Is a home suitable for entertaining something you're looking for?
Do you want a yard, pool, gated or guard gated community?
Have you determined your price range or consulted a lender to determine the best price range?
Searching for your dream home can be a time-consuming experience. Working with our professional team will make the process much more efficient!
Signature Real Estate Reviews

Great service, fast and friendly!
Rexhe Kasumaj



Erion transformed our home buying experience into what it should be: a celebration of our next step in life. Buying a home, for most people, is very stressful and can create bad feelings all around. This is particularly true if you're looking for a home in Sugar Land where the competition for the right house is intense. Erion gladly handled all the details which can create anxiety. He really understood what we were looking for in a home and was quick to steer us away from houses that were either overpriced or just not the right fit for us. More than once, he reminded us that he was not going to let us pay too much for a home. Great homes in Sugar Land might be on the market for 2 days, and Erion was always able to get us in on that day or the next morning. His Signature Houston website is always up to date and easy to navigate and customize. My wife and I walked away from the experience, and into our dream home, truly enjoying the whole process. Buying a home is one of the biggest decisions you'll ever make. You have the choice of whether that experience will be fun and exciting or a stressful disappointment.
Matthew Blair



Erion helped us find exactly what we were looking for in a very short period of time. He is a very knowledgeable person and provides a lot of information (which is exactly what you need when you are a first-time buyer!)
His website is AWESOME!!! much easier to use than most of the brand names that are out there.
I would highly recommend Signature Real Estate to any of my friends and family.
Dennis Alzoubi



We are very pleased to share our home buying experience with Erion Shehaj and his staff. Erion is very knowledgeable about market trends and ready to share all the details. He guided us throughout the process very well. We highly recommend him for any real estate needs.
Raja Bandla



I am very pleased to share my real estate buying and selling experiences with Erion Shehaj and his staff at the Signature Real Estate. I met Erion through a friend of mine in late 2011. My primary residence was fully paid for so I was looking to buy another house as my primary residence and lease out the mortgage-free house. Erion did not ask me to sign any contracts and simply said, "If you like my services we will work together otherwise we go our separate ways." Well, that was the beginning of a mutually trusting relationship which is still going on to this date and one which I cherish very much. Since then he has helped me acquire several rentals. He is also able to manage the rental properties. He has sound judgment when it comes to selecting the right tenants. He has also helped me quickly sell some of these rentals and get the best price the market had to offer. He is very well educated and has excellent analytical and communication skills. And he is very knowledgeable about the real estate market. I would highly recommend Erion and his staff to anyone who is looking to either purchase a primary residence or invest in real estate.
Sajid Mumtaz



If I could leave 10 stars I would for Erion and Signature Real Estate. Signature Real Estate is way more than a real estate agent -- they are your guide through an otherwise challenging investment landscape. Whether you are looking for an investment property or just rock solid real estate advice, I would recommend Erion without the slightest hesitation. Erion is my investment guru and I can't recommend him enough. Look no further.
Lowell Sherman

Robert Jenkins

Alex Gomez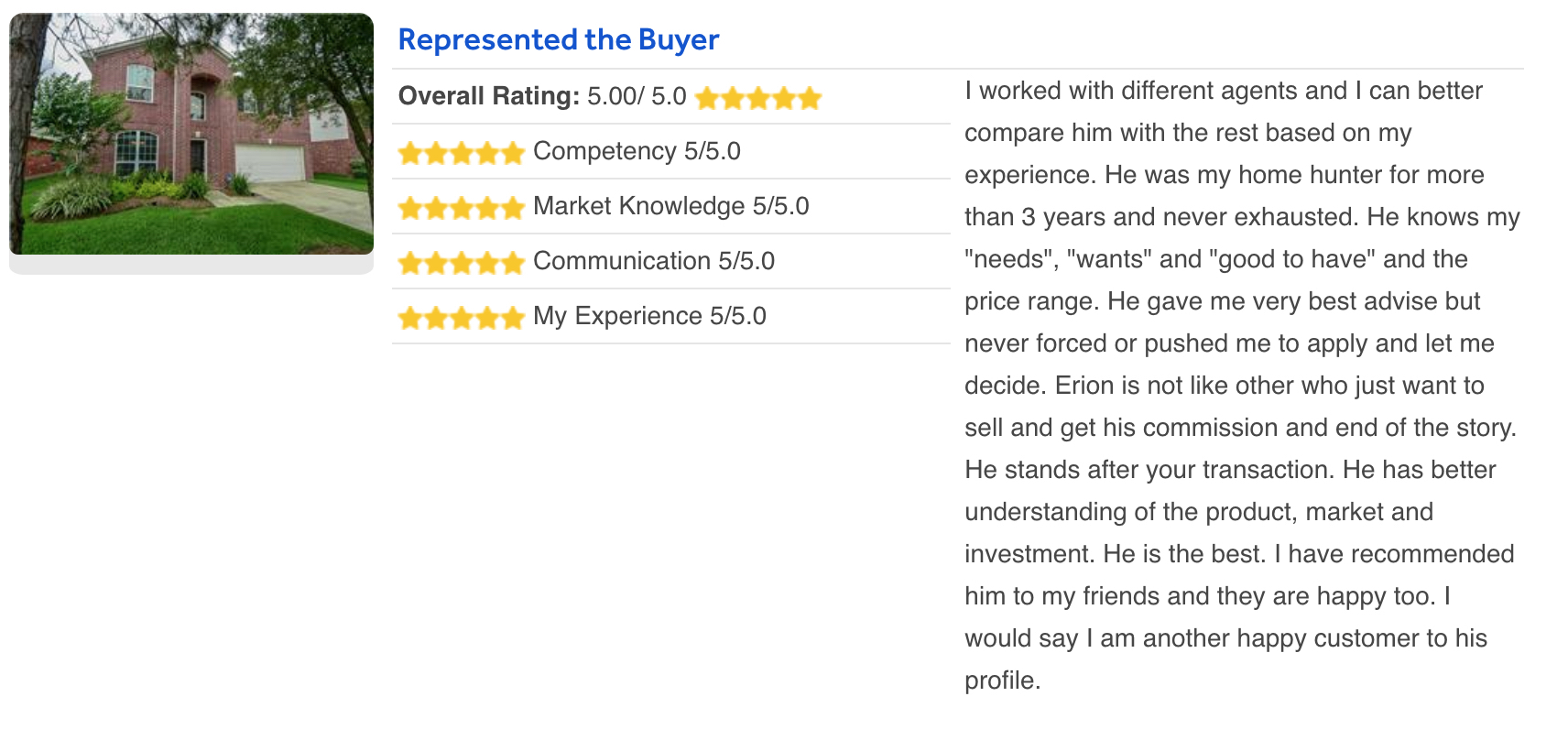 Arshad Mahmood

Dana Sexton

John Garris

Kevin Chang